Laying the pavers
How do I get the best result with clay pavers?
Setting out the paving
It is advisable to lay out the bond beforehand in order to achieve an attractive edge finish without any undesirably small cut pieces. The task of setting out is carried out by laying out the clay pavers beforehand, taking account of the actual formats of the pavers delivered to site. Use a mix of clay pavers taken from a minimum of 5 packs layer by layer from the various top, middle and bottom layers on the pallet.
Mixing pavers from different packs
Clay pavers are a natural product so that slight variations in colour and dimensions may occur. For an attractive mix of colour nuances, the pavers are to be consistently taken from 5 different packs one by one and mixed appropriately while laying.

Laying the pavers
The clay pavers are placed loose against each other with a minimum joint (2 to 3 mm) by means of the click & drop method. By first tapping the pavers together and then lowering them onto the paving layer, the correct joint thickness is automatically achieved and the paving layer remains untouched. If necessary, a slightly wider joint can be used from time to time in order to maintain the bond. Laying the clay pavers so that they are pressed against each other is strongly advised against in order to avoid edge damage.
The pavers are laid on edge, always with the sanded side laid against the non-sanded side. Drummed clay pavers are to be laid with the least damaged stretcher side facing upwards.
Keeping to the bond
In order to keep to the line of the chosen bond when laying the pavers, a string line is used at regular intervals. Before sanding/sweeping in, the bond is corrected again where necessary and adjusted using a fine rod or fine spade.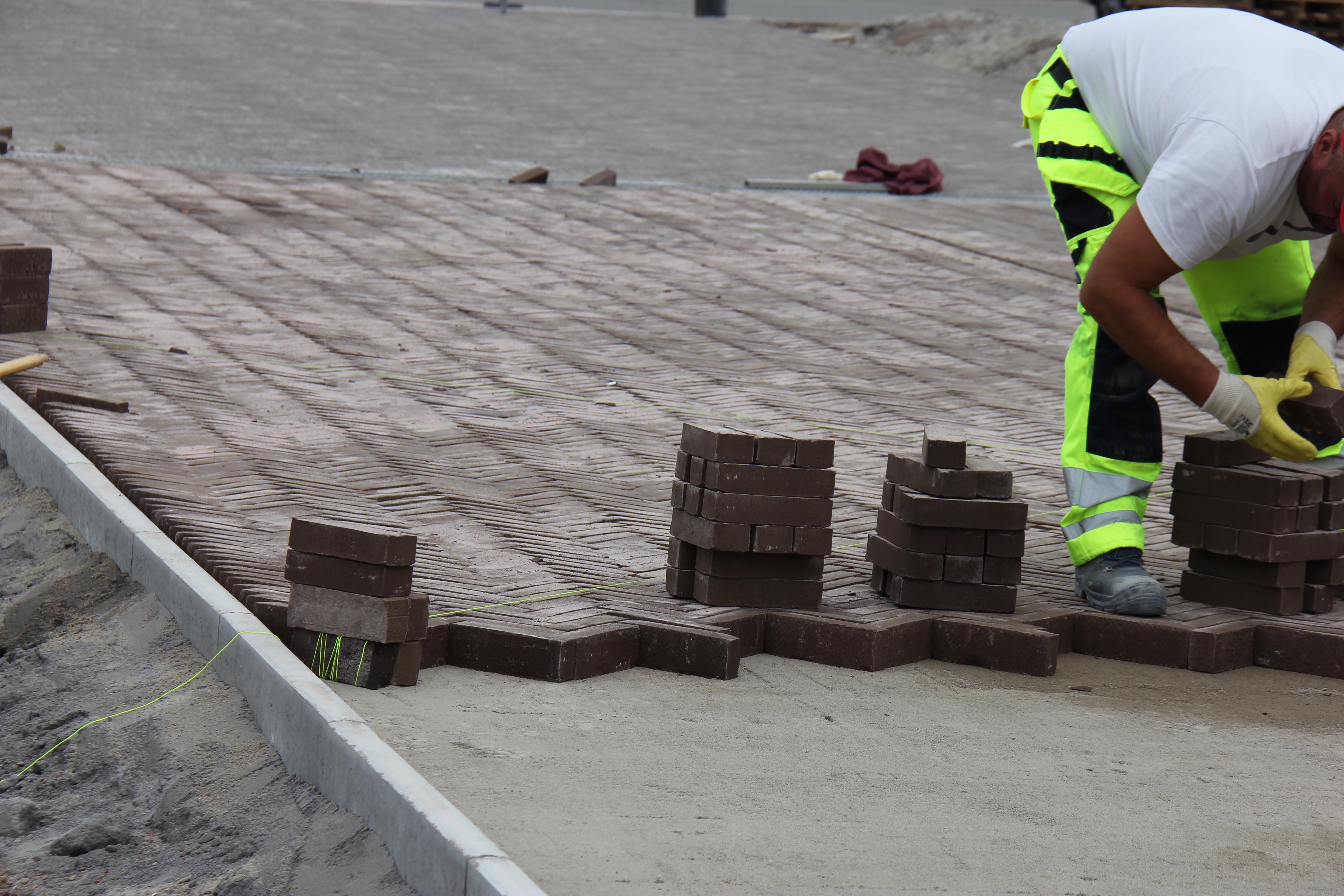 Cutting pavers
When creating the bonds, grinding will need to be carried out in order to cut the adjustment pieces required. During the laying of the pavers, the filling with adjustment pieces is carried out at the end. Use the least dimensionally stable clay pavers for this. Adjustment pieces smaller than 1/3 of a brick for random bond and 1/4 of a brick for elbow or angled herringbone bond should be avoided. Pieces which are too small are not only a nuisance but also less strong.